THE BEST ADVENTURE sPORTS
in Coorg 
We've got 3 exhilarating Ziplines setup for pure adrenaline and thrills. With a line length 400 ft, 600 ft and 800 ft, we've got the best Ziplines that the South of India has to offer! Our instructors will help you fit out all your safety gear and get you zipping on our safe, tension tested Ziplines. Feel the cool Madikeri forest wind caress your face as you reach speeds of up to 120 kmph on the longer Ziplines!
– Try to do your zipline on a half-empty or empty stomach
– Wear tight-fitting or well-fitting clothes, avoid loose clothing
Give your kids a whiff of the great outdoors, and they'll be made for life. We've seen a lot of brave kids muster up their courage and tear through our adventure course. Bring the kids over just once - and you'll win the Best Parent award, guaranteed.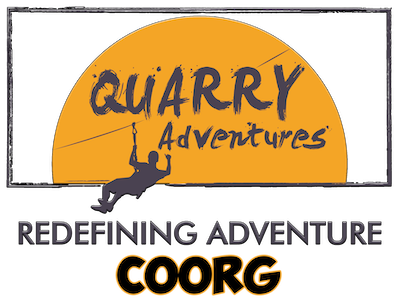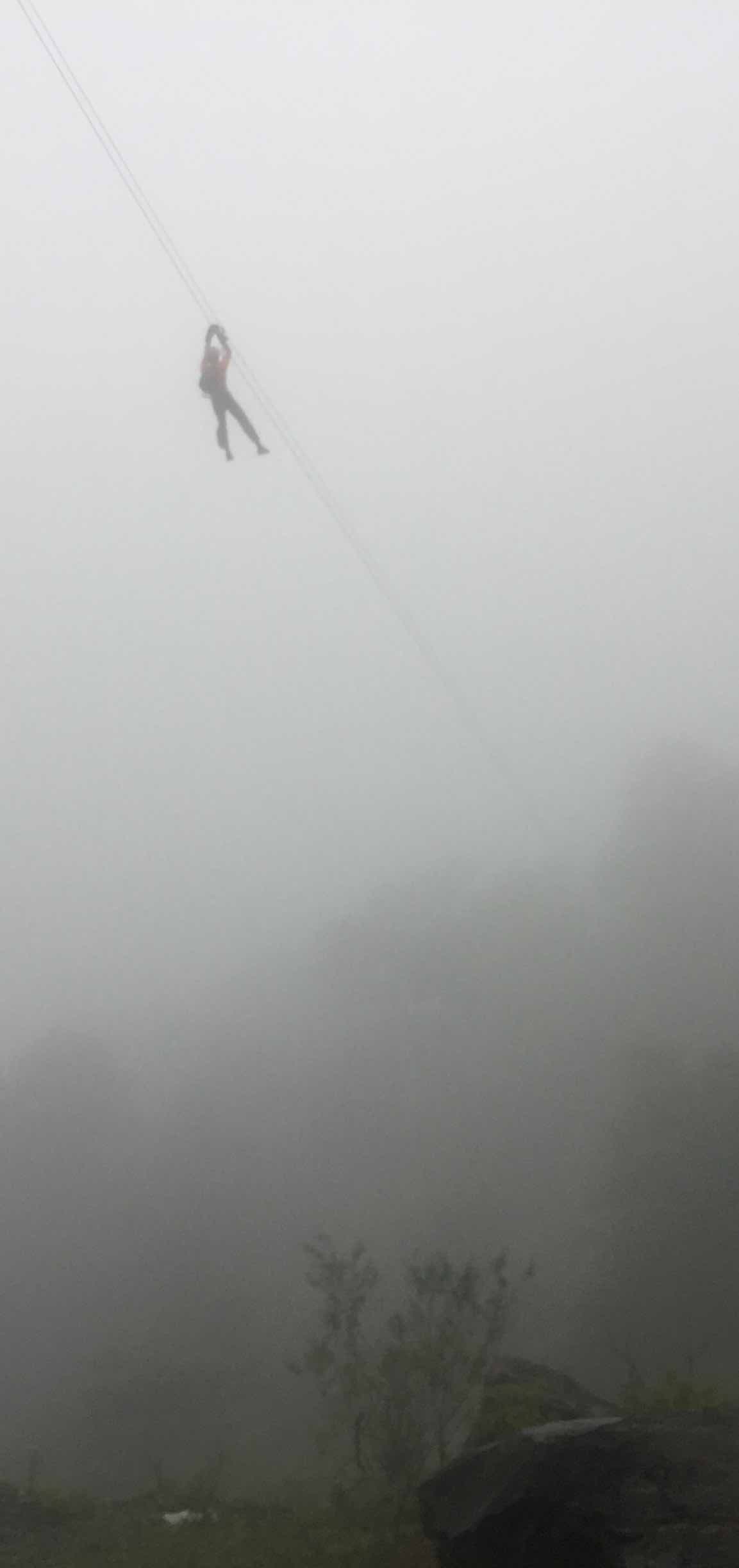 Get a first-hand and up-close taste of the South Western monsoons rainwater when you zipline through the mist and showers - and that's The Quarry on a rainy day. Well, what can we say? It's not really an adventure if you aren't wet!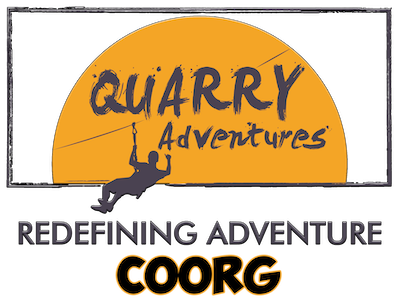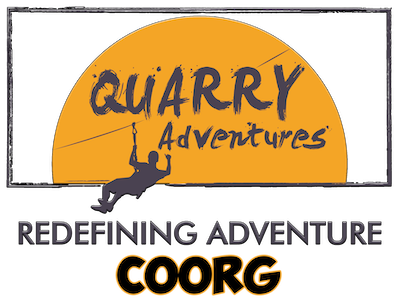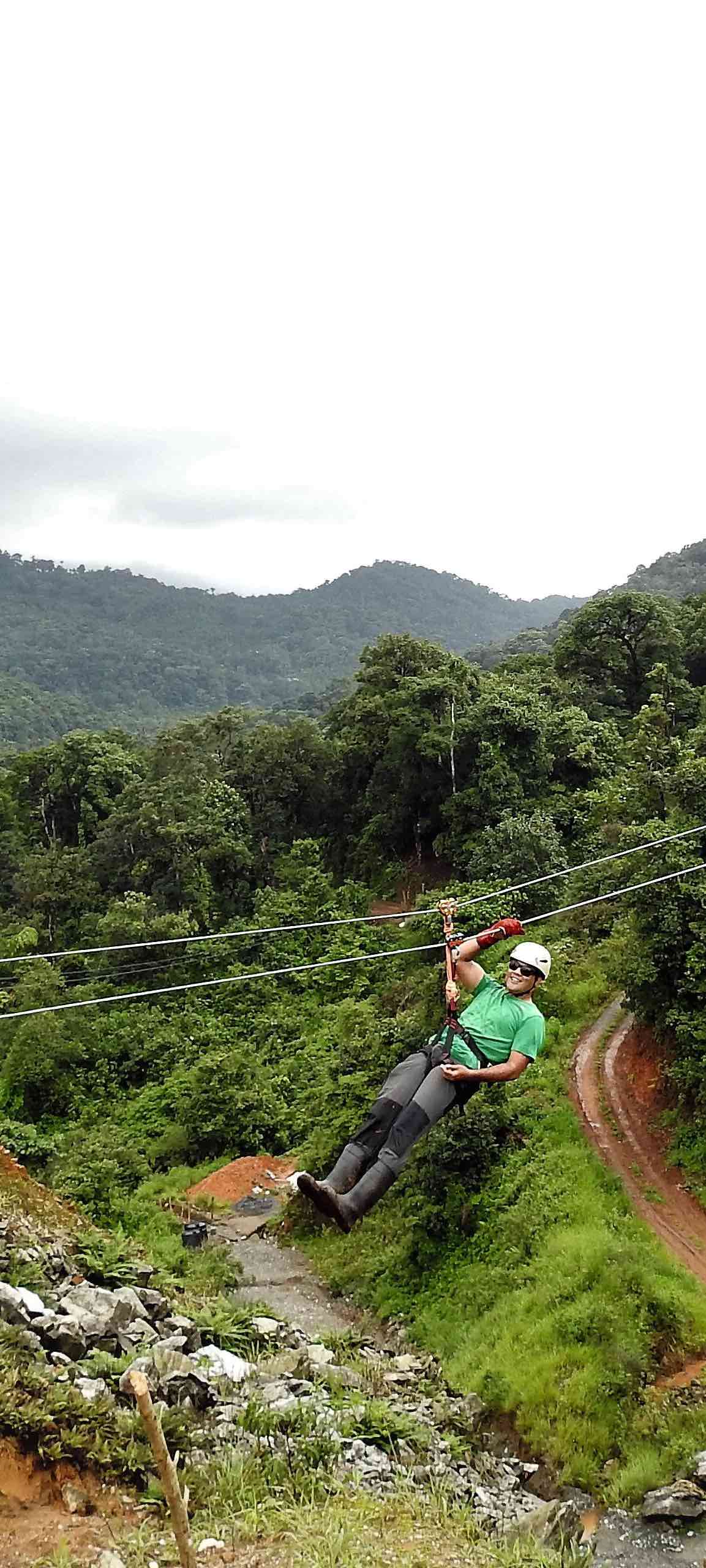 Wait, he does own it - that's our founder Sidd, and he's showing you how a zipline really needs to be done. He'll be around at The Quarry to make sure you're all set for your zip.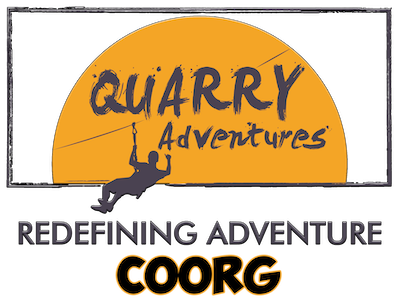 We've got a 100 ft mammoth rock face waiting to be climbed – can you do it? Strap on your safety gear and get ready to climb like a pro – our instructors will guide you both from above and below and help you meet your objective! We'll give you all the safety gear you need and a whole lot of guidance-  but doing it is up to you!
-Wearing a pair of sports sunglasses or goggles makes the climb stress-free
– Wear tight-fitting or well-fitting clothes, avoid loose clothing
Also called abseiling, rappelling is an extreme adventure sport that involves suspending yourself from the top of a rock face or a cliff or vertical drop with double ropes strapped to the body, and then using the legs to balance and kick the vertical surface as you gravitate down to the surface. It's a fun activity that will have you excited and give you a comfortable view of The Quarry from while you're hanging in mid air!
-Wearing a pair of sports sunglasses or goggles makes the rappelling experience stress-free
– Wear tight-fitting or well-fitting clothes, avoid loose clothing
Wear your shoes and stash your backpacks – we're going to take you on a rewarding, winding trekking adventure that takes you past grasslands, ancient forests, and more until you reach the summit of Karkatte peak. A half day activity for the truly nature minded adventurer! Don't miss the unique flora and fauna of Coorg along the way.
– Try to do your zipline on a half-empty or empty stomach
– Wear tight-fitting or well-fitting clothes, avoid loose clothing
Can you prove your mettle on the tree tops like our ancestors still so easily do? Well, we're not calling you a monkey but we want you to act like one on this course! Grab a helmet and climb up to the tree tops to complete some easy, yet exciting challenges high up above the Coorgi forest floor.  This is definitely an adventure game in Coorg for all ages and the whole family.
– Try to do your tree top activities and adventure games on a half-empty or empty stomach
– Wear tight-fitting or well-fitting clothes, avoid loose clothing

Ranked no.2 of 8 adventure activities in coorg 
"…adrenaline…thrill…amazing experience"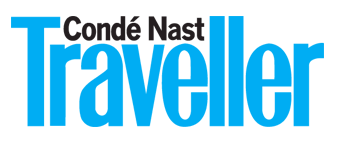 6 VERY OFFBEAT PLACES AROUND BANGALORE
"…this is the place for an adrenaline rush in a natural setting…"
ZIPLINE OVER RAINFORESTS OR RAPPLE..
"…Possibly the first adventure and outdoor theme park in the Kodagu district (that's Coorg, guys!)…"
We take SAFETY very seriously at The Quarry Adventures. 
Helmet: Wearing a safety helmet that we provide is mandatory on premises. Our staff will help you strap it on perfectly for a comfortable fit.
Harness: The harness holds your body as it remains suspended from the zipline through a rope. The harness is secured multiple times around your body.
Carabiners and Lanyards: Carabiners help fasten different components together. For example, the lanyard connects the cable to the harness. On either end, a carabiner secures the connection to the cable and the harness respectively

G

loves

: 

Industrial safety gloves give thorough protection to your fingers while you zipline.
Age Groups: We've seen people of a wide variety of age groups attempt different adventure courses at The Quarry.
We have seen kids as young as 8 completing all the courses, to adults aged 82 trying our zipline out. We would love to introduce you to the world of adventure sports and help you rediscover your fearlessness and curiosity.
Ideally, you need an able physical body to navigate the course, and confidence to go ahead!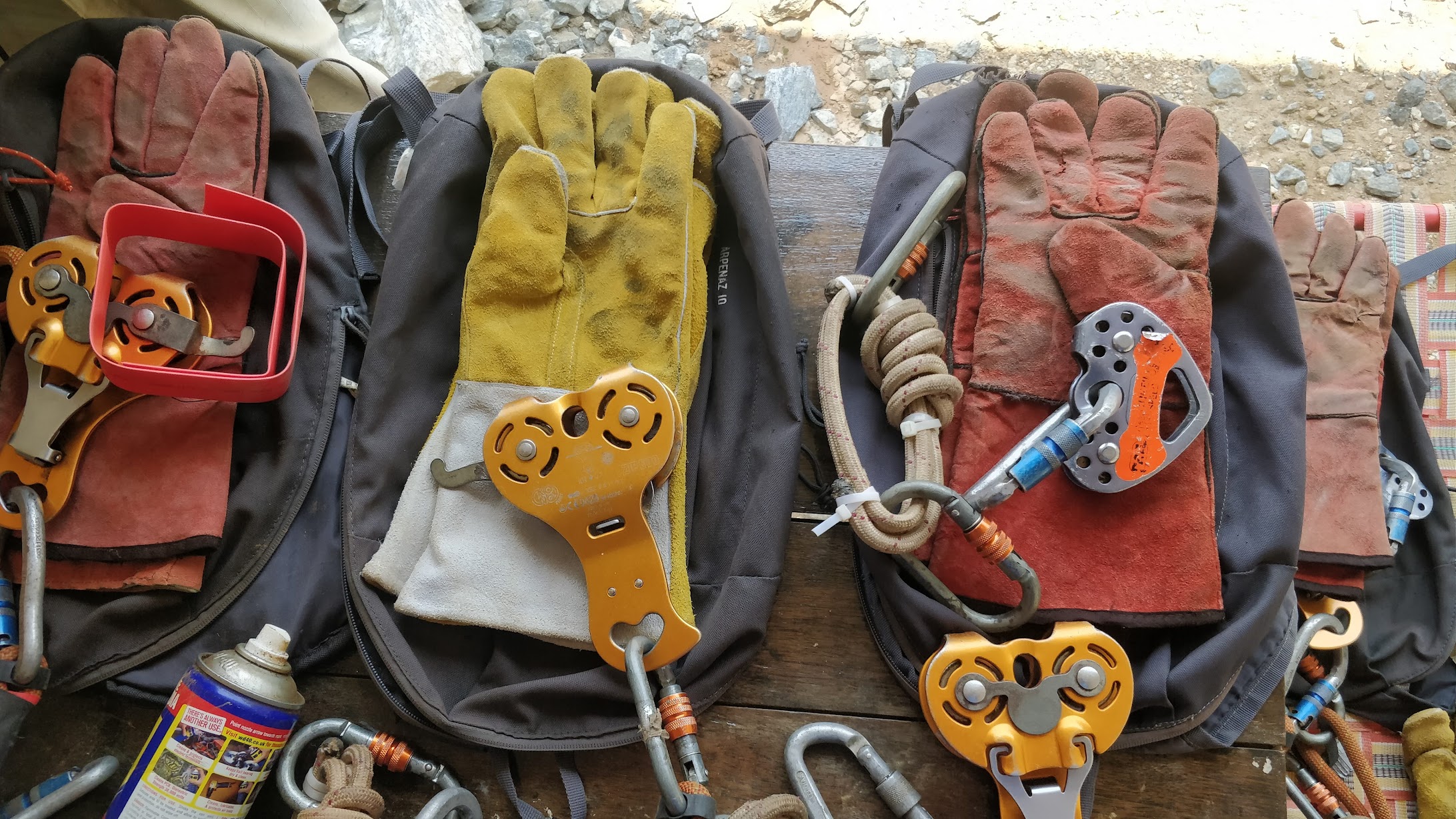 SOME ADVENTURES ARE PRICELESS
This is Your TRIP's ultimate adventure sports package in Coorg. The full dosage takes an entire day to complete. FOr The true adventure freak!
Includes: FOREST WALK, TREETOP ACTIVITIES (6), ZIPLINES (400 + 600Ft), ROCK CLIMBING AND RAPPELING.
HIGH ROPER
AFRAID OF HEIGHTS? You SHOULD STILL TRY THIS!
A COORG ADVENTURE PACKAGE FOR THE BRAVE.
INCLUDES: 6 TREETOP ACTIVITIES + 2 ZIPLINES OF 1000 Ft LENGTH
INR 2,500 / head
CLIMB 'n FLY
BE SPIDER-MAN AND SUPERMAN FOR A DAY.
The highlight of your Coorg adventure trip!
INCLUDES: ROCK CLIMBING, RAPPeLLING + one 400ft ZIPLINE
INR 2,500 / head
Nithin and Nikhil Kamath
Founders, ZeroDHA

"Had a really good time with Sid & Co at the Quarry. Not often do you come across businesses in India run by extremely passionate teams towards their trade. This was one of the very few. Make sure to stick around for the Sunset."
– Nithin Kamath, CEO, ZeroDHA
What are the adventure sports of Coorg?
Coorg is the capital of adventure sports in Karnataka and South India. The top land adventure sports you can experience in Madikeri or Coorg include ziplining, trekking in the rainforests and jungles, rock climbing, rappelling, tree top challenges, etc. You can do all of these adventure activities at The Quarry Adventures in Madikeri, Coorg.
How do I prepare for an adventure in Coorg?
First off, wear skin hugging clothing, that's lightweight and breathable, especially for summers. Carry a bottle of water, energy bars, and a cap, with your sunglasses. Wear sunscreen, and use sports shoes.
Are the adventure sports in Madikeri safe?
Every adventure sport has risks. At a Coorg adventure resort / club like The Quarry Adventures, we completely minimize risk by operating safe and well-tested equipment, and safety gear.
Is The Quarry Adventures one of the adventure resorts in Coorg?
The Quarry Adventures is more of  an adventure park and does not offer accommodation. However there is a great continental cuisine cafe serving meals to go with your adventure activities.
Do you offer a weekend adventure in Coorg?
Yes, we do! All our adventure activities like ziplining, rock climbing, rappelling, tree top games, and trekking take a full two days to complete. We also have a great cafe for hunger pangs in between – and non-stop adventure!
What can I expect at The Quarry Adventures?
Expect professional service from courteous and experienced adventure organisers and staff, who will help you experience the full spectrum of adventure sports in Coorg, Karnataka safely. You're in expert hands!
Where is The Quarry Adventures located?
The Quarry Adventures is located at a place called Madenad, just off Madikeri (Coorg town). Madenad is known for its coffee plantations, hills and forests, and now, adventure activities!
MORE COFFEE
☕️
☕️
= MORE ADVENTURE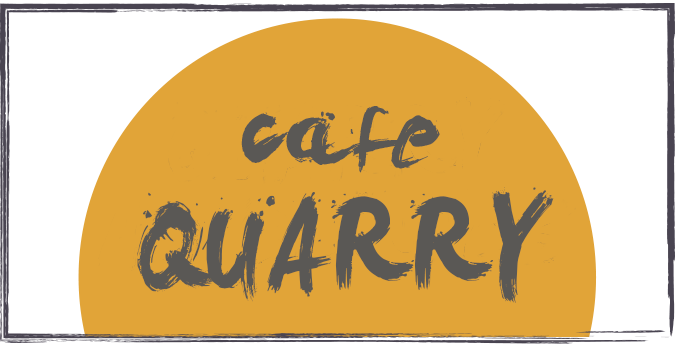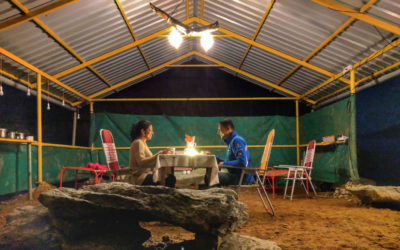 We know some of the ladies aren't too excited about the idea of an adventure sport-filled vacation. So we came up with something special just for them instead! Take advantage of our scenic location and delight your better half with a 5 or 7-course meal at the Quarry!
read more
I shall be telling this with a sigh
Somewhere ages and ages hence:
Two roads diverged in a wood, and I—
I took the one less traveled by,
And that has made all the difference.
– Robert Frost